To honour Richmond's 200th anniversary, we will be posting factoids about our rich history. Over the next year you should expect to see 200 pieces of information that you may or may not have already known.  The topic of these posts are: #76. Patrick McElroy #77. Lyon Box Tomb #78. Joseph Hinton- the moderate #79. Joseph Hinton- the politician #80. Hintonburg
If you have a question about the source of a factoid please contact us.
Factoid #76. Patrick McElroy and his family were one of the dominant forces in Richmond life for more than 125 years. 15-year-old Patrick came to Richmond, in 1819, with his father, Sgt. Henry McElroy of the 37th Regiment of Foot. The early history books tell us that the two were merchants. The location of their store is unknown. Sgt. McElroy died in 1844.
The Canadian Directory of 1851 listed Patrick as living on lot 10 on the west side of McBean St. (corner of Strachan). This was the lot where Maria and Andrew Hill had built their Masonic Arms Hotel. By 1850 Andrew had died; Maria had remarried and owned a new house south of the Jock. McElroy family lore, which is substantiated by at least one other oral history, claims some of the logs of the old hotel were incorporated into the new store complex.
By 1851, Patrick was branching out into new endeavours. He was already a notary public and seemed to be grooming his sons to replace him in his mercantile operation. In 1851 his two oldest sons, 22-year-old Henry and John 17, were both clerks in the store. In 1855, the family took advantage of the booming Richmond commercial economy and Henry established his own store further north on McBean St. (area is now the parking lot for Richmond Public School). Unfortunately John, who possibly was being groomed to assume control of Patrick's store, died in 1861 at the age of 27. This is only the beginning of the McElroy Saga. Many interesting tales can be found at www.mcelroy.ca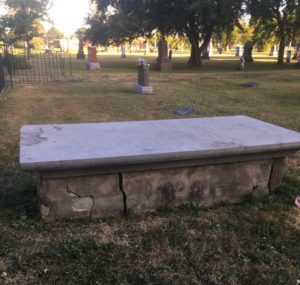 Factoid # 77. March 26, 1851 was a sad day in the village as it was marked by the death of arguably the village's greatest entrepreneur, George Lyon. Captain Lyon's mills and store were unique features on the village landscape. So too was his memorial. Today as one enters St. John's Anglican Cemetery from Maitland Street, one's attention is immediately drawn to the box tomb that marks his grave. In earlier years the tomb was even more pronounced as a fence surrounded the family plot.
Ian White, a member of the Historical Society has extensively researched box tombs. In an article in the GTHS newsletter (2012 #4), Mr. White tells us that box tombs have been popular in the eastern Mediterranean area for almost 1000 years. He says that in Mr. Lyon's native Scotland they were deterrents to body snatchers. A box tomb is merely a marker and does not contain the body of the deceased, which is buried in the ground beneath. "The box tomb is built of stone as a box the shape of a regular coffin but slightly larger and with a flat slab of stone, known as a 'ledger', horizontally covering the box", writes Mr. White. Limestone markers such as this are rare in Eastern Ontario and appear on the graves of wealthy businessmen and important leaders.  The memorial inscription is carved in the ledger and most of George Lyon's is still legible.
Factoid # 78.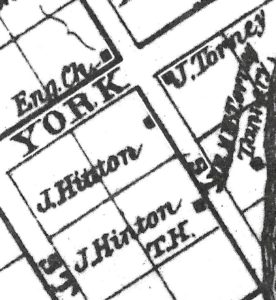 One of the most respected men in Richmond in the second half of the 19th century was Joseph Hinton. A merchant, Hinton arrived in the village in the early 1820s and was known for his religious tolerance. In 1836 when St. John's Anglican Church received a land patent, he was listed on the deed as a church warden. In 1847 Hinton was a featured speaker at a tea commemorating the opening of the Methodist Chapel. Bryon Cook, the author of Introducing William Pittman Lett, asserts that Hinton was a Presbyterian. Movement among the various Protestant denominations was not uncommon among Richmond residents, but unlike many of his contemporaries, and in an era of religious discord, Hinton was not ardently anti-Catholic nor did he support the extreme protestants. His moderate voice was exactly what the village required as the new decade of the 1850s began.
Factoid # 79. With the passing away of the old military elite and then the untimely death of William Lyon in 1854, a leadership vacuum was created in the village; Joseph Hinton stepped forward. From 1855 until 1871, he served as Reeve of Richmond three different times for a total of 12 years.  As an incorporated village, Richmond had a seat at County Council.  This meant that the 400+ villagers had the same influence as any one of the Townships some of which had 10 times the population. A "warden" chosen by the reeves from among their peers led County Council. Hinton was Warden of Carleton County for several terms, which gave him added prestige and influence. He also held the position of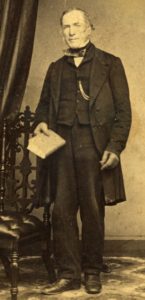 Justice of the Peace and Coroner. Reports indicate that he was respected for his "disposition and character" and set a fine example for others.
Factoid #80. In 1871 at the age of 73, Joseph Hinton retired from politics and Richmond and decided to relocate to be near his only son, Robert. Joseph and Ann Hinton had raised Robert along with his 3 sisters in Richmond but didn't hesitate to provide for them with property outside the village. Joseph had always been more than just a local merchant. He liked to farm and had long been involved in acquiring land, particularly in Nepean in the area just west of Bytown.
In 1860, Robert and his new wife had begun to farm on land near the corner of Parkdale Ave and Richmond Rd.
In 1871, Joseph moved into his own tiny house on land that had been part of his son's farm. Almost immediately Joseph became active in his new community. In 1879, he helped acquire a post office for the area that was called Hintonburg to honour his family. Active until his mid eighties, Joseph died in August 1884 after a short illness. Dave Allston has written a 3-part history of Joseph Hinton and his family. You can find the history at kitchissippimuseum.blogspot.ca beginning on March 3 2018.