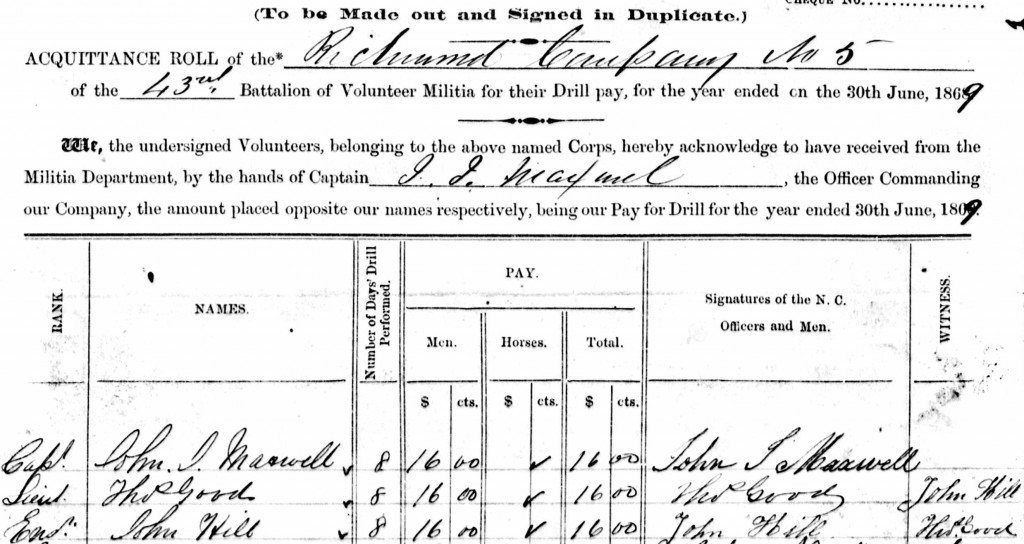 Several weeks ago when we posted a blog about the encampment of the Carleton Blazers, a question arose.  How did a village of less than 500 people have more than 50 men enlist in the militia?  Who were these men?  These questions prompted a second look at the Acquittance Roll for Company 5 (June 1869).  A search of the censuses and Belden Atlas revealed only a total of twelve militiamen who appeared as living in Richmond. Where did the others live?
From 1866-the officers, men, and numbers of men who participated in militia activities varied from year to year.  The first Captain, John A. Bryson, was listed as early as 1851 as a Richmond teacher.  By 1868, he had been replaced by his Lieutenant John J. Maxwell.  Captain Maxwell was the son of Capt. Joseph Maxwell of the 99th Regiment one of the original settlers in Richmond and a highly regarded farmer and livestock breeder.  Capt. John Maxwell owned 200 acres of land that stretched along the present day Shea Rd. between Perth St. and Garvin Rd. (now part of the village, in 1868 this land was officially in Goulbourn Township).  By 1870, Maxwell had been replaced by Thomas Good. Captain Good had begun as an Ensign under the Bryson command and had been Maxwell's Lieutenant. Good resided on lot 5 Concession 6 of Nepean (to-day that would be on the east side Eagleson Rd. south of the Jock River).
An analysis, of census data and the Belden Atlas indicates that the men, mainly farmers and/or their sons, came not only from Richmond Village  (R) but also the southeast portion of Goulbourn Township (G), southwestern portion of Nepean Township (N), northeastern corner of Marlborough Township (M) and northwestern corner of North Gower (NG).  It is most likely that most attended church in Richmond and were patrons of village stores and tradesmen.
Attached at the end of the blog is a copy of the Acquisition Roll 5th Company (Richmond) 43rd Battalion dated 30th June 1869.  This indicates payments made to the men for their activities since the previous June. (We copied these documents many years ago at the LAC but do not have reference numbers)
The names have also been transcribed. The name on the left is the official recognition of participation and the signature on the right is acknowledgement of receipt of pay. The signature has been added only if it differs in any way from the name on the left. (An x signifies the soldier's mark). The letters at the right indicate possible place of residence. IF YOU CAN PROVIDE ANY INFORMATION ABOUT THESE MEN, PLEASE CONTACT US. WE WILL GLADLY CORRECT ERRORS AND MAKE ADDITIONS.
| | | | |
| --- | --- | --- | --- |
| Rank | Name | Signature | Township |
| Capt. | John J. Maxwell | | (G) |
| Lieut. | Thos. Good | | (N) |
| Ensn. | John Hill | | |
| Sergt. | R. Pollock | (Robert Pollock) | (G) |
| Sergt. | John Rielly | | (R) |
| Sergt. | Peter Eamer | | (R) |
| L Sergt. | M. Baxter | | (R) |
| Bugler | Thos. Mills | (Thomas Mills) | (G) |
| Corp. | Jas. Hill | (James Hill) | |
| Corp. | A. Wright | | (R) |
| Corp. | A. J. Birtch | | (R) |
| L. Corp. | Wm Spearman | (X) (William Spearman) | (G) |
| | | | |
| Privates: | | | |
| | Thos Armstrong | (Thomas Armstrong) | (G) |
| | Henry Bennett | | |
| | John Brownlee | | (G) |
| | Robt. Brownlee | | |
| | Thos Becket | mark) (Thomas Becket) | (M) |
| | Jas. Brown | (James Brown) | (G) |
| | R. Collins | (R. A. Collins) | |
| | F. Dawson | (Francis H. Dawson) | (G) |
| | Thos. Donnelly | (Thomas Donnelly) | (M) |
| | Geo. Evans | (George Evans) | (R) |
| | Jno Good | (John Good) | (M) |
| | W. J. Good | | (NG) |
| | Wm. Good n g | (X ) (Wm Good) | (NG) |
| | Wm Good Mlg | (Wm Good Mrlb) | (M) |
| | John Gracy | (his mark John Gracy) | (N) |
| | Wm. Gemmill | (W. Gamble) | (G) |
| | A. Gemmill | (Alex. Gamble) | (G) |
| | B. Gordon | (Benjamin Gordon) | (G) |
| | J. R. Hill | | (M) |
| | R. Hill | (Robert Hill) | (M) |
| | Jno Huitt | (John Hewitt) | (G) |
| | Jas. Huitt | (his mark Jas. Huitt) | (G) |
| | H. Huitt | (H. Hewitt) | (G) |
| | Thos. Hall | (X Thos. Hall) | |
| | Thos. Miller | (X Thos. Miller) | (R) |
| | Wm McEwen | | |
| | I. Moore | (Isaac Moore) | (M) |
| | Geo. Moore | (George Moore) | (M) |
| | Henry Montgomery | | (M) |
| | Wm Mills | (William Mills) | (M) |
| | J. F. Mills | (James Mills) | (M) |
| | M. Pettepiece | (Mathew Petipiece) | |
| | R. Roe | (? Roe) | |
| | Thos. Stewart | (Thomas Stewart) | (R) |
| | F. Smith | | (G) |
| | A. Shillington | | (R) |
| | Wm. Farmer | | |
| | Thos. Wilson | (Thomas Wilson) | |
| | John Lusk | (J Lusk) | |
| | Thos. Birtch | (T. Birtch) | |
| | Jas Ling | (James L??g) | (R) |
| | Thos. Duffy | (T. Duffy) | |
| | Jno Stewart | (John Stewart) | (R) |
| | Dan Beatty | (Daniel Beatty) | (R) |