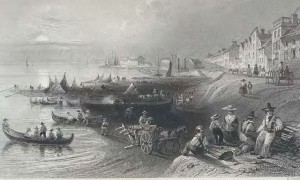 In 1819, when the Richmond settlers were completing their first year in the area, George Lyon began buying goods from Montreal merchants to sell in his newly established store.  An examination of the entries in his invoice book reveals the wide variety of merchandise that he was able to obtain from about fifty suppliers.  However, Lyon wasn't the only merchant to provide goods to the Richmond settlers. 
The Military
When the British government decided to settle disbanded soldiers in the new "Richmond Settlement" which comprised the townships of Goulbourn, Huntley, March, and parts of Beckwith and Nepean, it also created an administrative headquarters in Richmond Village.  Col. Burke, the Superintendent, was responsible for distributing the land and administering the settlement.  This included overseeing the commissary that provided tools and food rations to the new settlers from 1818 until 1822.  The government intended these soldier-settlers to be the nucleus of a militia that would protect the area in case of invasion.  As such, it was relatively generous in the distribution of land and supplies to these militiamen (as compared to civilian settlers).
To augment what they brought with them, each military family received free rations for one year along with a variety of other tools and supplies.  This included: 1 axe, 1 broad-axe, 1 pick axe, 1 mattock (similar to a pick-axe), 1 spade, 1 shovel, 1 scythe, 1 drawing-knife, 1 hammer, 1 hand-saw, 2 scythe-stones, 2 files, 1 camp-kettle, 1 bed tick, 1 blanket, 12 panes of glass, 1 lb of putty, and 12 lbs of nails (in 3 sizes).
The military also provided supplies for group use. Every five families were allotted a crosscut saw, a whipsaw, and a grindstone.  Two complete sets of carpenter tools and two complete sets of blacksmith tools were provided for the Richmond Settlement.  However, as the only urban centre within the settlement, Richmond Village probably received at least one set of each.
But what would one do if one required something not on the list or which one needed?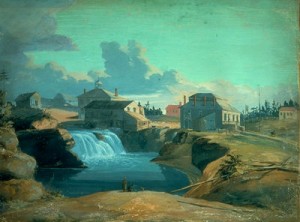 Philemon Wright
Although there was a small store at Richmond Landing (today's LeBreton Flats), many settlers looked across the Ottawa River to Philemon Wright of Hull for additional supplies.  Wright was a well-established businessman who had been asked to provide fresh beef and flour as part of the military rations to the Richmond settlers.
Evidence of these additional purchases can be found in Wright's "Soldiers Waste Book & Others for Richmond Settlement, Oct. 1818 – Dec. 1819".  While this account book contains only rough entries of transactions, they tell us about the goods that the people of the "Settlement" (and a few outside the settlement) were requesting.
The vast majority of the 136 pages in Wright's account book document the purchase of some type of alcoholic beverage – mostly gin and whiskey.  The other entries include tobacco, various items of clothing (mainly shirts and trousers), as well as cloth.   Wright provided footware: shoes, boots and "morgasins" to at least 75 customers along with a few hats and gloves.  He advanced cash at least 30 times and provided postage another 20.
There are records of purchases on some interesting items which may have had their own stories to tell.  For example:
Why did Sergeant Spearman buy an axe on November 22nd 1818?  He should have received one as part of his military rations.  Did he not receive one from the Richmond commissary?  If he did, what happened to it? (See update below)
What exactly was someone going to do with mink skins?
The collection of Philemon Wright's papers at Library & Archives Canada is vast.  A thorough examination would be required to understand the complete connection between Wright and the village of Richmond.
Other Merchants
If Philemon Wright had a monopoly at the very beginning of the settlement, it did not take long for other enterprising merchants to provide competition.  Andrew Haydon in "Pioneer Sketches in the District of Bathurst" states that before the later development of Bytown, Richmond had "… at least a dozen good general stores".  (Is he referring to the whole settlement or just the village? Does he mean before 1828?)
While we know some of the village merchants, we don't know when or where their stores were established and, for the most part, where they purchased their stock and what types of goods they sold.  Who are possible merchants in the 1820's?
Some historians have maintained that Edward Malloch, a shoemaker, and his son, Edward Malloch Jr, were very successful merchants. Hughson & Bond in their book "Hurling Down the Pine" (1987) wrote  that Philemon Wright's blacksmith provided axes for Malloch's store.  In fact in the 1842 census of Goulbourn, Edward Malloch listed his profession as "merchant".  When Edward left the village and moved to Bytown in the 1840's, he had already acquired the money and influence to become a member of the Legislative Assembly and to begin large-scale land speculations.
Captain John Bower Lewis, who arrived in 1820, began a business which was carried on by his sons and grandsons until their store, a fine stone building, was destroyed by fire in 1911.  There is some evidence that Captain Lewis frequently visited Montreal but the exact location of his first store and what type of goods he sold is not known.
Two other early merchants named by J.L. Gourlay in his book "History of the Ottawa Valley" (1896) were Joseph Hinton and Sergeant Henry McElroy.  While we have no evidence that these two men were in business in the 1820's, McElroy's store, under the direction of Henry's        son Patrick, was busy after mid-century.  However in the 1842 census, neither Joseph Hinton nor any of the McElroy family is listed as a "merchant".
Haydon also states that Lieutenant Joseph Maxwell was a merchant for "a couple of years" until he became a full-time farmer and breeder of livestock.  Much research needs to be done to verify the activities of all the above men in order to develop insight into their commercial endevours.
George Lyon
Captain George Lyon is generally referred to as the first Richmond merchant.  While the location of his first store is unknown, records show that his son, William R.R. Lyon assumed control of the business from his father before 1843 and built the large stone structure on McBean St.  The business had begun almost immediately after Lyon arrived in the village of Richmond in the fall of 1818.
A surviving invoice book shows the records of his business dealings with a variety of Montreal merchants from 1819-1829.  The late Edwin Welch, while curator of the Bytown Museum, transcribed the entries for the period 1822-1829 and in 1982 included them in an unpublished manuscript titled "A Pioneer Store in Upper Canada". (Thanks to Ian White who uncovered this document at the Ottawa Archives.)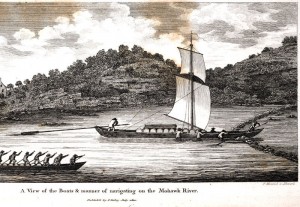 Analysis of this invoice book by Welch indicates that Lyon, or his agent, purchased goods about every two months and shipped them to the village.  In winter this was achieved by sledge directly from Montreal to Richmond.  In summer the route by bateaux or Durham boat started at the Lachine Canal, along the Ottawa River (with portage over the falls at Hawkesbury) to Richmond Landing at the foot of the Chaudiere Falls, and then overland from Richmond Landing to the village.
The invoice book reveals the 50 different merchants with whom Lyon did business and gives insight into the nature and quantity of some of the goods he brought to the village.  Except for one merchant in Hawkesbury, all were in Montreal.
As one would expect of a new settlement, in the early years Lyon imported supplies needed to build industries and homes.  Entries indicate that he relied on his Montreal contacts to provide some of the specialized materials required to build his own mills, distillery and possibly blacksmith shop.  His store stocked much of the hardware required for a new home.  This included nails, latches, hinges, bolts, screws and locks as well as the tools and tin products required by the settlers. (His sawmill also provided lumber).
Included in his purchases were various items used in the household including: combs, candles, wash basins, pitchers, pans, kettles and chamber pots.  If a settler had the money, Lyon could supply everything needed to set a fine table: knives, forks, plates, bowls, cups & saucers (at various price ranges) as well as tumblers, wine glasses and decanters.  In Montreal, he bought kegs of Jamaica Spirits (rum), tea, sugar, molasses, soap, tobacco, salt and various oils as well as kegs of pork and several kinds of salted or pickled fish.
An examination of the Day Book for the store of William Lyon, George's son, for the period 1844-1846 reveals a large volume of sales in dry goods. William thus followed the tradition established by his father, as the largest volume and value of goods shipped from Montreal to George Lyon was in dry goods. This included various types of cloth ranging from simple flannel and gingham to silk and brocade.  Most orders included pins, needles, thread, buttons and patterns.  Lyon also imported clothing for adults and children. In the 1820's Lyon transported a large volume of boots and shoes as well as the leather to make more in the village.  He could supply most of what every level of village society desired.  Medicines, books, paper supplies, and some seeds were included in some shipments. Occasionally a luxury item would be included on the list.
How many of these goods were for his personal use?  How many were special orders for the local gentry?  What actually appeared on store shelves?  What remained unsold?
These questions remain unanswered as we don't have access to any of 1820's cash books that recorded sales to customers paying cash or day books which listed those customers buying on credit.
Stay tuned! In the months ahead we'll more closely examine the types of goods obtained from Montreal and analyze what they tell us about Richmond society and life in the village.
Update April 21, 2013: Thanks to Joan Darby for pointing out that there is a copy of a letter in the GTHS files from George T.  Burke to A. J. Christie dated April 14, 1821, saying that the settlers are supplied with every article a settler can want…[except for] a "fellery" axe.  Burke recommends that every settler should acquire one at Montreal before proceeding to the Richmond settlement.
Sources:
Robinson, J.M. "1842 Census – Canada West – Carleton County". Ottawa: The Ottawa Branch ,The Ontario Genealogical Society, 2000.
"Day Book for Store of W.R.R. Lyon, June 21, 1844 – Feb.28, 1846". digital copies of entries which I made from originals held privately by a Richmond family.
Gourlay, J.L. History of the Ottawa Valley. 1896.
Graham, Mildred at al.  Richmond "150" –Yesterday and Today 1818-1968. Richmond: 1968.
Haydon, Andrew. Pioneer Sketches in the District of Bathurst. Milton: Global Heritage Press, 2003.
Hughson, John W. and Courtney Bond. Hurling Down the Pine. Old Chelsea: Historical Society of the Gatineau, 1987.
Illustrated Historical Atlas of the County of Carleton including Ottawa 1879 H. Belden & Company. Oshawa On: Wilson's Publishing Co., 1997.
The McElroy Family of Richmond
"Soldiers Waste Book & Others for Richmond Settlement, Oct. 1818 – Dec. 1819". Philemon Wright Papers. Vol. 111. LAC (A photocopy in the Goulbourn Township Historical Society files)
Welch, Edwin. "A Pioneer Store in Upper Canada" Ottawa:1982. Unpublished manuscript written for The Historical Society of Ottawa. City of Ottawa Archives, A2009-0137 Box #2, # 34 D 04, ABUS 19.