By James McTavish
Captain George Lyon of the 99th/100th regiment – was the major merchant and mill owner in Richmond. He was elected to the Assembly of Upper Canada (1832) and Canada West (1846).  Capt. Lyon owned an "Estate" south of Burke Street in the southwest corner of the village where he built a dam and ran a sawmill, a gristmill, a distillery, a fulling mill, and a forge. He and his wife Catherine had 15 children. Several of their sons made major contributions to the area. Robert was a respected judge, Mayor of Ottawa (1867) and M.P. (1869-1871). His eldest brother, George Byron Lyon-Fellowes was a M.P.P. (1845-1859) and mayor of Ottawa (1876).  William was Reeve of Richmond (1850-1854) and ran the family store.  Arthur was the village doctor during the 1860's and 1870's.  Another brother, Robinson E. Lyon moved from Richmond in the 1880s to Flower Station where the family served as station agents for the Kingston-Pembroke Railway.  Other members of his family served at other locations along that line.  Robinson's son, George Seymour Lyon, was born and raised in Richmond, later moving to Toronto.  He gained notoriety as an athlete, golf and cricket in particular.   He was the World Amateur Golf Champion and the last Olympic Champion in golf (the St. Louis Olympics of 1904).
Background of Captain George Lyon:
Captain George Lyon of Richmond was born in Inverurie, Aberdeenshire, Scotland in 1790, the eldest child of George Lyon, long time Baillie (Mayor) of that town and his wife, Elspet Philip.  There were a total of ten children in the family. (Visit The Siblings of Captain Lyon to view a complete list of the children.) Four members of the family subsequently came to Canada and the Richmond area.
1. George Lyon: (1790 – 1851) married Catherine Radenhurst in Sorel, Lower Canada in 1813.
6. Margaret Lyon: (1805 – 1838) came to Canada in 1829 accompanied by her youngest brother, Robert.  She married Reverend Robert Short, the clergyman at St. John the Baptist Anglican Church, in 1833.  She died in Bytown in 1838.
9. Robinson Lyon: (1810 – 1885) married Mary Ann Banks in 1830.  They emigrated to Canada and Richmond in about 1836.  Here, he ran a hotel or inn.  The first year was tragic with the death of his son, Robert, at 5 years of age followed by the death of their eldest son, George Balfour Lyon, who was accidentally shot in a hunting accident.  His son, Robinson Jr. was born in Richmond in 1838 followed by the birth of another son, William, in 1841.  His wife died about 1845 and he moved to Bytown where he opened The Exchange Hotel.  This was located approximately where Bank or Lyon and Sparks Streets meet.  Robinson remarried in 1848 at Packenham to Flora McMillan.  The Exchange Hotel burned down in 1854 and the family relocated to Arnprior where Robinson re-established himself in the hotel management trade.  He died in Arnprior in 1885 and is buried in Albert Street Cemetery there.
10. Robert Lyon: (1812 – 1833)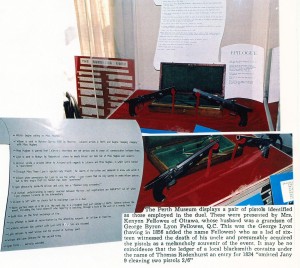 emigrated to Canada in 1829.  Robert had been a student for three sessions in the class of 1826 – 1830 at King's College in Aberdeen, Scotland.  With this background, he was qualified to secure a law apprenticeship with Thomas M. Radenhurst in Perth, Ontario.  Robert was killed in 1833 in the famous Wilson-Lyon duel fought in Perth.  He is buried in the Radenhurst plot at the Craig Street Cemetery in Perth.  The pistols are displayed in the Perth Museum. (See also the Wilson Lyon Duel)
Captain George Lyon –  The Military Man:
George was commissioned Ensign in the 40th Foot in 1806 and Lieutenant two years later.  In 1809, he transferred to the 100th Foot Glasgow Infantry Regiment.  This regiment had come to Canada in 1805 and Captain Lyon joined them in Canada in November, 1810.
War of 1812:
Serving in the War of 1812, George was present at the capture of the American gunboats Growler and Eagle at Ile aux Noix on Lake Champlain, Lower Canada (Quebec), and was put in charge of the American prisoners whom he escorted to Montreal.  On the Niagara frontier at Lundy's Lane and Chippawa (Niagara Falls area), he commanded the regiment's 8th Company at the Battle of Chippawa on July 5, 1814.  George, himself, was severely wounded, but after his recovery, he continued to serve the 100th (re-numbered 99th in 1816) at that location and until the regiment was disbanded in 1818.
In those days, the wives of officers often accompanied their husbands to their postings, living in crude and cramped quarters in the fortresses.  Often their duties involved nursing the wounded.  This was indeed the case with Catherine and George.  She was present at Chippawa Creek and accompanied him to York to recover from his wounds, later to return to the same location. A letter written by Catherine from Chippawa in October 1814 and sent to her aunt and uncle (Ridout) in York (Toronto) proves this point. (See Letter)
Wife  –  Catherine Radenhurst Lyon:
In 1813, George Lyon was married at Sorel, Canada East (Quebec) to Catherine Radenhurst (born in 1793 in Lower Canada), daughter of Captain William Radenhurst.  Captain Radenhurst was born in Cheshire, England and had come to Lower Canada in February, 1776 as storekeeper to the hospital at Trois-Rivieres.  Ten years later in Montreal, he married Catherine Campbell, the daughter of a loyalist.  Captain William Radenhurst was the Commanding Officer of Fort William Henry at Sorel in Lower Canada, and later served at Fort St. John located on the Richelieu River.  His wife, Catherine Campbell Radenhurst was the sister of Mrs. Thomas Ridout (Rideout) the wife of the Surveyor-General of Upper Canada, both of them the daughters of Alexander Campbell of Adolphustown near Kingston, Upper Canada.  Captain Radenhurst had died in 1805 leaving eight children under the sole care of their strong-willed mother.  She managed to get commissions in the army for two of her older sons and later to have the son Thomas accepted at John Strachan's Home District Grammar School at York (Toronto).  From there, he went on to study law in the office of his cousin George Ridout (Rideout).  Thomas Radenhurst became a prominent lawyer in Perth, (Ontario) and also served as a Member of the Legislature for Upper Canada.
Demobilizing the 99th Regiment of Foot Soldiers:
In the summer of 1818, the military authorities decided to demobilize the 99th Regiment of Foot Soldiers, which had been a consolidation of the older 99th and 100th Regiments and which had been stationed in Lower Canada (Quebec).  Most of the members of the 99thdecided to settle in Upper Canada (Ontario).  Following his military career, George Lyon received from the crown a grant of a considerable amount of land in Goulbourn Township a part of the Richmond Settlement of Upper Canada, just 20 miles from the soon to be Bytown (Ottawa).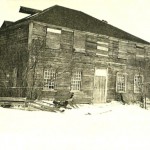 George also held property in March Township.  The Public Archives of Canada shows documentation that he held deed to 11,000 acres of land on the Jacques (later and still known as Jock) River.  Research shows that the amounts of land allotted were according to military rank.  It is documented that in 1820, Captain Lyon built mills above the village and constructed the great dam which drowned the country above it for many miles, turning it into a hunter's paradise for many years.  For erecting mills, George received, in agreement with the Quarter-Master General's Department, extra land in the village of Richmond and in Goulbourn.  He was later allowed to patent even more land to compensate for the property flooded by his mill pond. Documentation shows that he and also the Radenhurst family (his in-laws) at one time owned land in the region of Sorel, Quebec.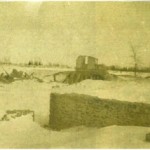 The sawmill was erected about 1821 and by 1826, the gristmill was fully operational.  To the mill complex, he added a distillery which began production early in 1827, a fulling mill, a forge and a store at which he sold spirits and other goods.  He also engaged in the potash trade.
Given their backgrounds, it was natural that Lyon and the other officers formed an elite group for leadership and positions of prominence.  In this group were names such as Maxwell, Lewis, and Ormsby.  Officers were on half pay whereas general settlers were permitted to draw army rations for the first year, and were issued with only basic tools and stores.  The standard of living for Officer families was much higher.  George Lyon, in time and owning a store, was able to import luxury items from Montreal such as bone china, crystal glasses, silk and gold jewelry.  A further indication of the community's refinement was the demand for books, including the current issues for the time of the illustrated magazine Life in Paris.  The principal markets outside the local area for the mill products of Richmond were flour, lumber and whisky to Montreal and the Point (Ottawa).
George Lyon was noted for many accomplishments:
He cut down the first tree in the area that would become Richmond.
He was responsible for most of Richmond's industry with all of his mills operated by water power from the dam he constructed on the Jock River.
He served as Justice of the Peace.
He worked as half-pay officer for the militia.
Until the 1840s, he was one of a small group of men, many of whom lived in or adjacent to Bytown, who effectively controlled that community.
He served in the assembly of Upper Canada, elected in 1832.
In 1846, he represented Carleton County in the Legislative Assembly of Canada following the union of Upper and Lower Canada.
Unfortunately for the future development of Richmond, the Rideau Canal was built between Bytown and Kingston.  The canal was the major transportation system for the area.  The Jock River was only a small tributary of the Rideau and Richmond became isolated.  With the construction of the canal in 1826 and the rapid development of the lumber industry along the Ottawa River, Bytown became the hub of activity and Richmond gradually lost its commercial position.  Richmond's days of glory were over and its days of memories had begun.  This brought about considerable financial strain to George Lyon and his businesses.
George Lyon died in 1851 and is buried in St. John's Cemetery in Richmond.  His wife, Catherine Radenhurst Lyon died in 1857, and is also buried in St. John's Cemetery.  Her tombstone lies in two pieces in the vault at the cemetery.
The Family of Catherine and George Lyon:
Catherine and George Lyon had 15 children.
 1. George Byron Lyon-Fellowes: (1815 – 1876) married Mary Matilda Ottley-Fellowes abt. 1842. He later changed his name to Lyon-Fellowes so that his wife could retain her own name, a requirement for claiming her inheritance.  George was born in Sorel at Fort William Henry when his parents returned from posting at Chippawa Creek.  George became known as a very successful lawyer and politician in Ottawa.  He served as Member of Parliament for Russell in the legislature of the United Canadas for about 10 years to 1858 and served as Mayor of Ottawa in 1876, dying in office.
2. Ann Lyon: (1816 – 1887) unmarried.  Lived with the Lyon family at Richmond until her brother, Thomas, moved with his family to New York state in the early 1870s.  She then resided in Ottawa with her brother, Robert. (the Census of 1851 lists Ann as the first born child and born at Chippawa.  It is incorrect with the proper order and dates verified with Captain George's war records.) She too was probably born at Fort William Henry in Sorel.
3. Mary Eliza Lyon: (1819 – 1860) married James Hubbell, a barrister, in 1842.  For a time, they lived in Richmond and subsequently moved to the township of Fitzroy, north west of Ottawa.
4. William Richmond Radenhurst Lyon: (1820 – 1854) was the first male child to be born in the settlement of Richmond.  He married Henrietta Suzanna Lewis of Richmond in 1842.  He served as the first Reeve of the incorporated town of Richmond.  He was a general merchant and postmaster. ( see Lyon Store)
5. Caroline A. Lyon: (1821 – 1908) married a widower, James G. Rogers of Grafton, Ontario in 1860.  They had one child who died at 13 months.  James died in 1874.  He and his first wife had a large family most of whom lived in the area.  James was a U.E. Loyalist and a military man in the militia.
6. Catherine Lyon: (1822 –   ? ) married a British soldier, Charles Aylmer Coates, a Lieutenant in the 74th Regiment in 1843.  Little is known of them although he returned to England and continued his military career.  It is assumed that she moved to England with him.
7. Thomas V. Lyon: (1824 –   ?)   married an American by the name of Catherine and lived at Richmond with his three sisters until he moved with his family to Lewiston, New York state in the early 1870s after the mills in Richmond were sold. The U.S. Census of 1880 shows him living there with his wife and children, (George, Cornelia, Frederick, Catherine, Charles and Grace) working as a farmer.  All of the children were born in Richmond.  He, Thomas V. Lyon,  must not be confused with his nephew, Thomas V. Lyon, son of William R.R. Lyon.
8. Robinson E. Lyon: (1826 – 1886) married Elizabeth Ann Maxwell, daughter of Lt. Maxwell of the 99th Regiment, in 1849.  (Lt. Maxwell had been one the elite settlers in the area, becoming an important breeder and importer of thoroughbred stock.) Elizabeth died 3 months later.  In c.1850, he married his first wife's younger sister, Sarah Maria Maxwell.  They continued to farm in the area although Robinson is sometimes listed as barrister and merchant. In public life, he served as school trustee and in 1874 as Reeve.  In about 1880, the lure of a job with the railway attracted Robinson E. and he and his family moved away from Richmond to Flower Station, a stop on the Kingston & Pembroke Railway.  He became station agent and over time, members of his family held similar positions at other stops.  He died in 1886 and was buried in Richmond.  One of Robinson's sons was George Seymour Lyon of golfing fame.  He became World Amateur Golf Champion and won the gold medal for golf at the St. Louis Olympics in 1904. (see George Seymour Lyon)
9. Emily Lyon: (1827 – 1870) unmarried.  Lived with the Lyon family in Richmond until her death.
10. Robert Lyon: (1828 – 1888) married Mary Ann Foster in 1865.  Lyon Street in Ottawa (previously known as Sally Street) was named after him.  He was a noted lawyer, city Alderman for several successive terms in Ottawa, Mayor of Ottawa in 1867, M.P.P. for Carleton in the first provincial parliament following Confederation, and Judge of Carleton County.
11. Charles Harold Lyon: (1832 – 1837)  died at 5 years of age.
 12. Edith Alma Lyon: (1834 – 1906) married James Barnum of Grafton, Ontario in 1853.  The Barnums were late U.E. Loyalists and the father of James served in the militia. He also ran a distillery and a flourmill.  Barnum House Museum in Grafton was the marital home of Edith Lyon Barnum and her husband, James Barnum.
 13. John Lyon: (1835 – 1868) Not a lot is known of him.  In 1865, he and his wife Annie Christina Traynor were living in Cincinnati, Ohio.  There is no record of their marriage in the Richmond area.  A child, George Arthur, was born to them in 1864 in Cincinnati and baptized in Richmond in 1865 sponsored by the child's aunt and uncle, Robert and Ann Lyon.  John Lyon died in 1868  at 34 years of age and must have been brought back to Richmond for burial which is registered as being on January 10, 1868.
14. Helen Lyon: (1836 – 1906) unmarried.  Lived with the Lyon family in Richmond until her brother, Thomas moved to New York State.   The 1871 census shows her and her sister Ann living with her brother, Robert, in Ottawa.  Her occupation was listed as Music Teacher.
15. Arthur Lyon M.D.: (1837 – 1909)  married Mary Emily Reilly c.1868.  After studying medicine at McGill University Medical School in Montreal and graduating in 1861, he returned home to practise medicine in Richmond.  The book "Carleton Saga" records that "Dr. Arthur Lyon, son of Capt. Lyon, was the only doctor in Richmond in the sixties and seventies."  He later moved to Shawville, Quebec to practise medicine there where he died in 1909.