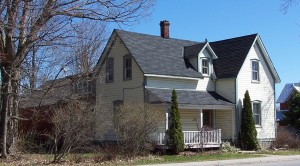 3551 McBean St.
From 1834, this property was owned by Edward Malloch, merchant, member of the Legislative Assembly, land speculator, mortgage broker, and county sheriff.  Although Edward moved from Richmond to Bytown in 1840 he continued to own large tracks of village land.  After his death in 1867, his wife, Margaret, daughter of the legendary Maria and Andrew Hill, continued to own much land in the village including this lot.  The exact date of the construction of the house is unknown but Margaret Malloch may have had it built for her mother and stepfather, Andrew Taylor.
This property had a long connection with the veterans of the War of 1812 and early settlers in the village.  The lot was originally deeded to Major Sewell Ormsby, a half-pay officer, in February 1834.  In November of the same year, he sold the land to Edward Malloch.  A 1863 map of Richmond shows no building on this lot.
It is believed that the house was constructed just before 1877 when Maria Hill Taylor, mother of Margaret Malloch, moved here with her second husband, Andrew Taylor. (see the Smokehouse)
In 1879, the authors of the Historical Atlas of Carleton County described Mrs. Taylor.
"The only person now living in the Village who was a member of the original colony of 1818 is a Mrs. Taylor, at that time wife of Sergeant-Major Hill…. She is now in her 88th year, but in possession of all her faculties to a very remarkable degree, both mental and physical, except that she is a partial cripple from the effects of being run over by a waggon of the army train during the retreat after one of the engagements in the Western Peninsula in 1813. Her husband belonged to the 99th regiment, which was sent west, and those who had wives were obliged by General Orders to leave them behind. She, however, disregarded the order, and followed her husband's regiment all through two campaigns, and was present with him at a number of battles, including Niagara, Chippewa, and Queenston. She is an Englishwoman by birth, having come to Canada in 1799, and is a remarkable specimen of the longevity and physical and mental vigor inherent in Canadian pioneers."
This picture of Maria Taylor is confirmed by an account written by Mr. Walter Shanly and printed in Kingsford's History of Canada.  Mr Shanly confirmed Mrs. Taylor's sharp mind and described the scene he encountered on June 12, 1881.
"I found the old lady, seated in a rocking chair on the ground floor of a comfortable and very tidy house, her own property, the house surrounded by an orchard & well stocked vegetable garden, herself the picture of serene old age, neatly & carefully attired with a faultlessly white cap"
After Andrew Taylor's death, Maria continued to live here and died in 1881. Margaret Malloch, herself a widow (Edward had died in 1867) owned the property until her death, and, in 1887, her estate sold the house to Andrew Graham.
In 1902, a village merchant, James Brown purchased the house. He and his brother, Robert, operated Brown Brothers' store across McBean St.,  first at 3550 and then at 3556.
The property was purchased by Samuel Knox in 1946 and remained in the Knox family until 2000.
Architecture: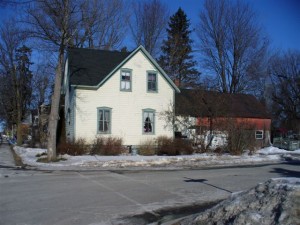 This is an example of a Victorian vernacular farmhouse.  It is a three-bay, wood frame, clapboard building with gable roof.  The wood siding is original.
The house is one of the few buildings in the village that still has its original sheds.  The summer kitchen and shed are outlined on a fire insurance map dated 1889.  The foundation is limestone laid in a coursed rubble format; the walls are 18″ thick.
Sources:
Floysvik, H.  An architectural and social history of a heritage home.  2003  Algonquin College.

Illustrated Historical Atlas of the County of Carleton

. H. Belden & Co.Toronto:1879 (reprinted Wilson's Publishing Company 1997)
Kingsford, William. The History of Canada. Vol IX (1815-1836). Rowsell & Hutchison: Toronto:1897.